---
Please donate to help our programming thrive. Our organization is entirely volunteer-run and relies on your generosity to bring you programming and help serve as an axis in the Arab-American/SWANA literary community.
Our venmo is radiusofarabamericanwriters
Our Paypal is paypal.me/RAWIInc
What we need:

By the beginning of 2022, we're hoping to fund two new programs: a mentorship program wherein established authors will help support and guide emerging writers, and a virtual summer writers' workshop. We've already fully funded a submission fee bank to help those in need submit to literary magazines and book contests.
With your help, in 2021:
We paid

72 SWANA artists over $10,000

during our bi-annual program RAWIFEST this year.
We held 30 events this year—both as part of RAWIFEST, as well as other unique programming, creating space for SWANA artists to gather.
We launched

3 new initiatives

, including launched Tea Time—an every-other-month casual space—and raised funds for our submission fee bank. We still need $2000 for our mentorship program.
We served 1000+ attendees with fully virtual programming, allowing attendees from across the world.
Planned for a robust 2022 program line-up, including: an AWP caucus, a submission fee bank launch, a mentorship program, a summer workshop series, a critics listserv, virtual release parties, and expanded Tea Time gatherings.
Progress to Goal 2: A Mentorship Program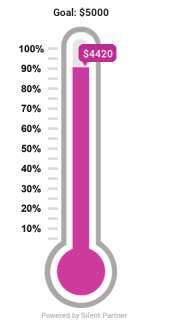 Last updated 1/16 @ 1:50 PM CST
Goal 1: A Submission Fee Bank
Fully Funded!
Last updated 11/30 @ 8:27 PM CST
Help us reach our fundraising goal of $10,000: $2,000 will establish a submission-fee bank. For a mentorship program, we need an additional $5000. $3000 beyond that will allow us to offer a virtual workshop series in the summer of 2022.
RAWI is the only national organization that provides mentoring, community, and support for Arab-American writers.
Despite the fact that Arab-American/SWANA voices continue to become more prominent, opportunities for us to share our experiences and insights, as well as to discuss the trajectory of Arab-American literature, are limited. Therefore, RAWI's programming, which includes community gathering opportunities, provides a rare opportunity to bring a large number of Arab-American/SWANA writers, artists, and scholars (and their readers and admirers) into the same space so we can engage in various dialogues otherwise unavailable to us.
Donated funds support:
student scholarships
workshops in different cities
workshop leaders in poetry, screenwriting, and prose
writing retreats
national & international readings
…and much more!
We are a 501 (c) (3) organization, so your donation is tax-deductible.
This is important because…
When our government openly speaks about deporting us, silencing us, and stealing resources from our countries of origin, we fight back with art and language.